The Bust of Bertrand Russell
In 1980, an appeal was started by Sir A.J. Ayer, Lord Fenner Brockway (Chairman of the Appeal Committee), Peter Cadogan (Secretary), Lord Ritchie-Calder, Frank Dobson, John Gilmour, Dora Russell, Lord Willis,  and Baroness Wootton to commission sculptor Marcelle Quinton to make a bust of Bertrand Russell (1872 – 1970) for the gardens of Red Lion Square.
The Appeal Committee stated at the time:
"Bertrand Russell, one of the most important philosophers of this century, awarded academic honors in many countries and the Nobel Prize for Literature, revered by multitudes all over the world for his untiring efforts for peace and human understanding, has not so far received the recognition that is his due."
Camden Council granted permission and Robert Davis (President) with Peter Cranford (Chairman) of the Bertrand Russell Society in the US, plus members of Russell's family gave encouragement to this venture.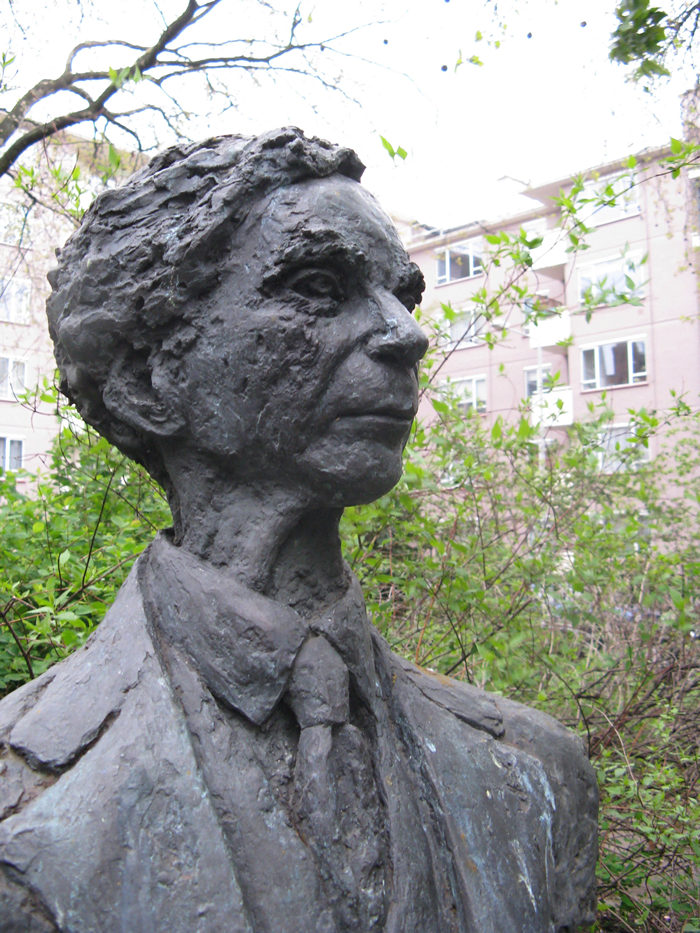 Lady Marcelle Quinton, according to St Hilda's College Oxford, where she graduated in 1952, is described as "a distinguished British artist whose work has been exhibited in Europe and America. Her sculptures are mainly in bronze and include the bust of Bertrand Russell which is on his monument in Red Lion Square, London. Other works for which she is known include the busts of Cardinal Newman in the Brompton Oratory, Harold MacMillan in the Houses of Parliament, and Lord Carrington at the Victoria and Albert Museum. Marcelle is also known for her sculptures of mythical animals and paintings."
The Statue of Fenner Brockway
On 25th July 1985, the statue, by Ian Walters, of Fenner Brockway, was unveiled by Michael Foot, MP at the west end of the gardens of Red Lion Square. Lord Brockway (1888 – 1988) was present at the unveiling. The statue was conceived and erected by the Greater London Council in honour of Brockway's "untiring efforts for peace and racial equality".
On the night of 15th-16th October, "The Great Storm of 1987" felled a bough, presumably from one of the great London Planes, onto the statue and damaged the bronze-work sufficiently – an arm was broken off – to necessitate restoration.
Stan Newens of Liberation, formerly the Movement for Colonial Freedom, launched an appeal fund for restoration at Brockway's 99th birthday celebration at the newly named Brockway Room in Conway Hall. The plaque to commemorate the repair work and re-erecting records "Reinstatement by  Irene Chamberlain and others in memory of W.J. Chamberlain and all opponents of war, and also of Joan Hymans". [W. J. Chamberlain was a member of the No-Conscription Fellowship and, with Fenner Brockway, was a leading conscientious objector to WWI. In January 1972, at the time of Bloody Sunday, Joan Hymans is reported as being in Belfast as Fenner Brockway's secretary, sharing a platform with him, Bernadette Devlin and Rory McShane.]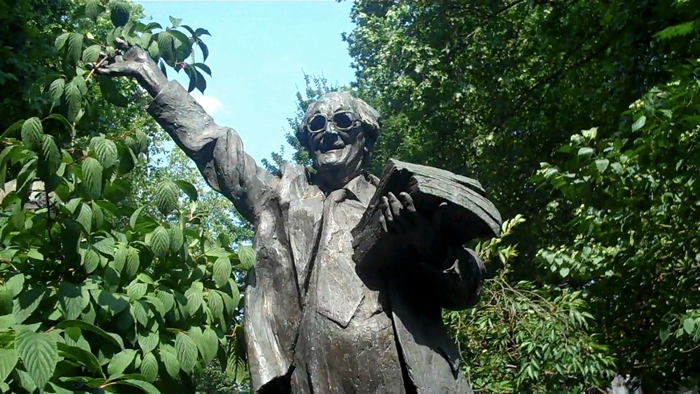 The British Humanist Association provides the following summary of the humanitarian's main achievements:
"Fenner Brockway was a humanist socialist politician who devoted his life to two causes, world peace and racial equality. He was imprisoned for his opposition to the 1914-18 war, and helped to found the Campaign for Nuclear Disarmament and the World Disarmament Campaign. He played a leading role in bringing about the change from the old imperialist British Empire to the present situation where independent nations belong to the Commonwealth. He knew most of the leaders of the colonies seeking independence from Britain, including Gandhi and Nehru, the Indian leaders, and in his old age was a popular and inspiring figure amongst Indian communities in Britain."
Ian Walters (1930 – 2006), according to the Guardian's obituary, "was a deeply committed socialist whose work was motivated by his belief in peace, justice and human rights. He thought it important that his works should be displayed in an appropriate public space so that people could draw inspiration for those causes."